With the end
of the Gospel Age,
the Narrow Way
will close.
"For if ye live
after the flesh,
YE SHALL DIE;
but if ye
through the Spirit
do mortify the deeds of the body, YE SHALL LIVE.
"For as many as are led by the Spirit of God,
they are the sons of God."
Romans 8:13,14
There is
another class;
it is partially overcome
by the world,
the flesh,
or the devil.


Purified by
the fire
of affliction.
The rugged, steep,
narrow way
of the Christian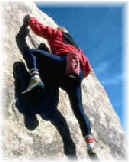 The difficulties
of the narrow way
are a separating
principle, refining
the people of God.